Real estate developer and interior design studio.
Developing exclusive homes mixing Nordic design references and Nordic quality standard.
Everything planned, built and designed in-house.
WHAT WE DO
We buy, build and sell highly acclaimed and exclusive properties with quality materials and innovative design.
To do this, we carefully identify the uniqueness of each building and consistently develop properties in which we would love to live, always in the center of Madrid. Each of them is fully developed and designed in each phase by our team. The properties are sold fully equipped with furniture and decoration. They are ready to live in.
Excellence is our encouragement.
Dimmer Switch.
The apartment is equipped with dimmer switches.
The perfect light is very important for us.
To be able to adjust the light according to your special moments is crucial for a comfortable living.
Shower Technology.
The built-in electronic thermostatic shower offers a great esthetic and modern technology to your bathrooms.
It is built with energy-efficient and water- saving systems.
The Floor.
The custom-made oakfloor is thicker than ready-made floors and treated with a well- known floor treatment from Sweden called Bona.
Radiators.
We pay attention to every detail, so even the radiators are design pieces with a modern touch.
The company is a longstanding, reputable supplier of excusive and high quality designer heating.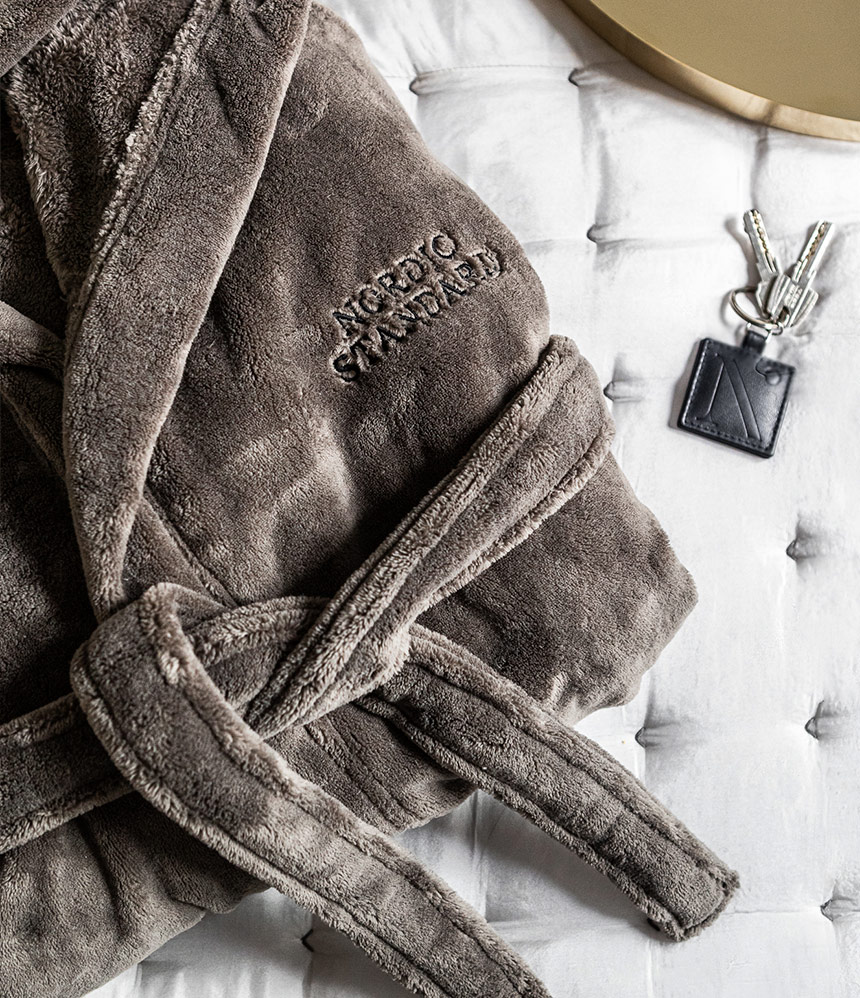 Art.
For the final touch of the interior design we collaborate with several well-known art galleries and studios. Every art piece is specially selected for the apartment and many of them are limited editions.
Our Own Design.
Together with the best brands for interior design we add our own designs, which makes every apartment exclusive and one of a kind. Headboards, kitchens, shelves and dining tables are some pieces of our own design.
Warranty.
All our properties are of high quality standards. We guarantee that floor, walls and details are in perfect & new condition and we offer a warranty of 2 years for all electricity, heating, ventilation and sanitation.
That Little Extra.
"The difference between ordinary and extraordinary
is that little extra."
We want our customers to feel extraordi- nary by buying a home by Nordic Standard. To underline the sense of our brand we have added some merchandising to every new home.
PARTNERS
To make each property unique and special we are really focused on design & only choose the best brands, many of them with award winning products: Pholc, SMEG, &Tradition and AYTM, to name a few.
Clients can expect equipment of highest quality: regulated lighting, regulated showers including rain forest rain or massage, best quality of wooden floor, regulated temperature zones and detail oriented work execution.
For elegant details, we work with Skultuna.
For the best sleep, we work with Hästens.
For a pleasant bath, we work with Von Norten.
For functional details, we work with Buster+Punch.